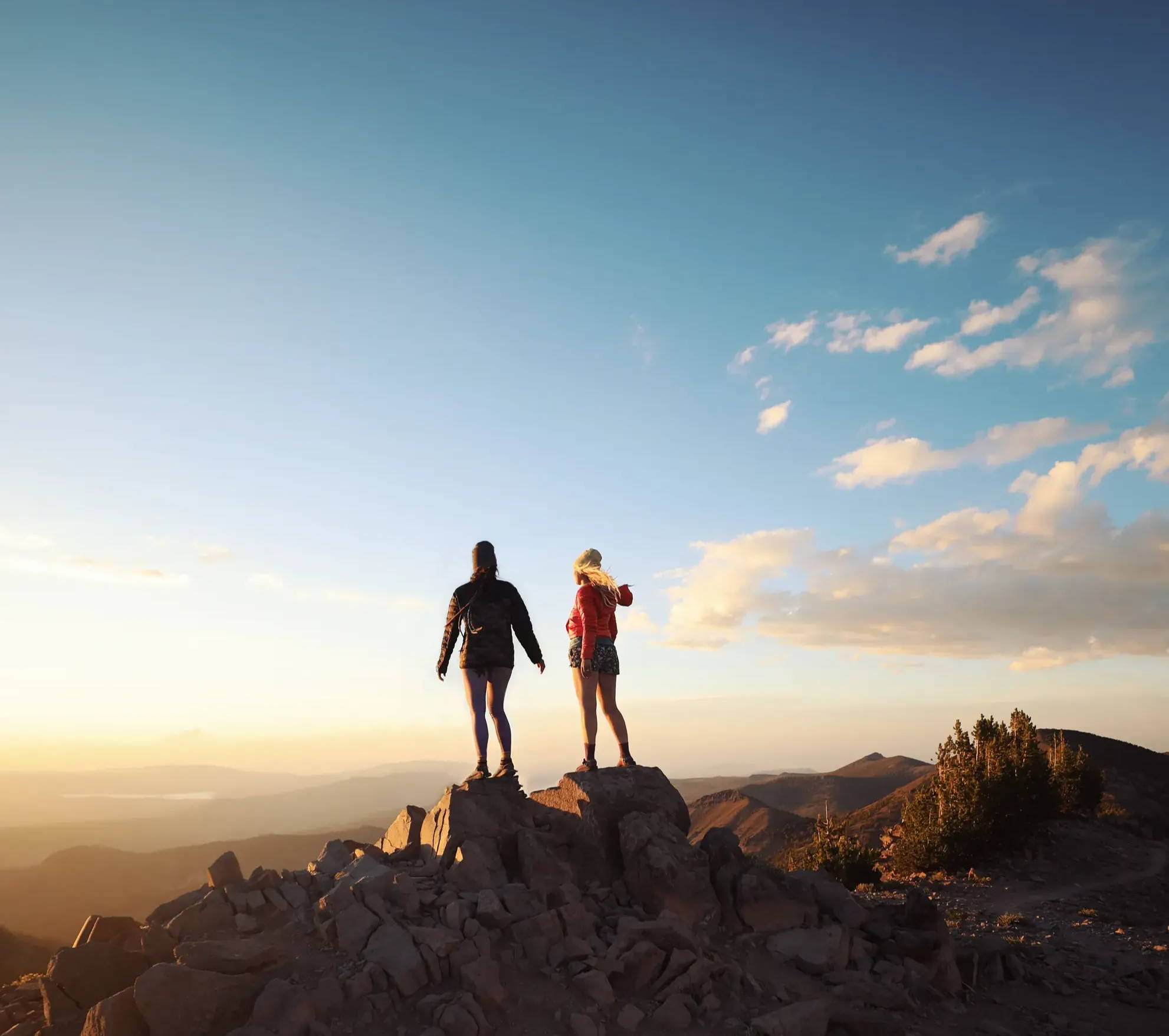 Female Solo Travel:
Benefits and Tips
While camping and backpacking with friends, family, or a significant other gives you someone to talk to and create memories with, companions aren't always available when you are. And sometimes you just want to head out into the woods or desert alone.
With the plethora of benefits solo travel provides, you can and should head into the outdoors by yourself. All you need to do is properly prepare, and you'll be ready for your own trip.
Is Heading Into the Outdoors Alone Unsafe for Women?
As a child and maybe even an adult, you've likely heard that women shouldn't travel alone. Especially not in the outdoors.
"Until recently, women were conditioned to settle down early in life, start a family and run a thriving household. Backpacking was just crazy talk."
While proper preparation is key to a safe and enjoyable trip, the truth is public lands are safer in many ways than the county as a whole. National Parks have much lower incidences of murder, rape, and aggravated assault than the entire United States. Other concerns including becoming lost, attracting unwanted attention from animals, and getting trapped in inclement weather can all be prevented with proper planning and skills.
This isn't to say that there aren't risks in the outdoors. But the key is to be prepared for mitigating and dealing with these dangers, rather than letting them intimidate you.
The Many Benefits of Solo Travel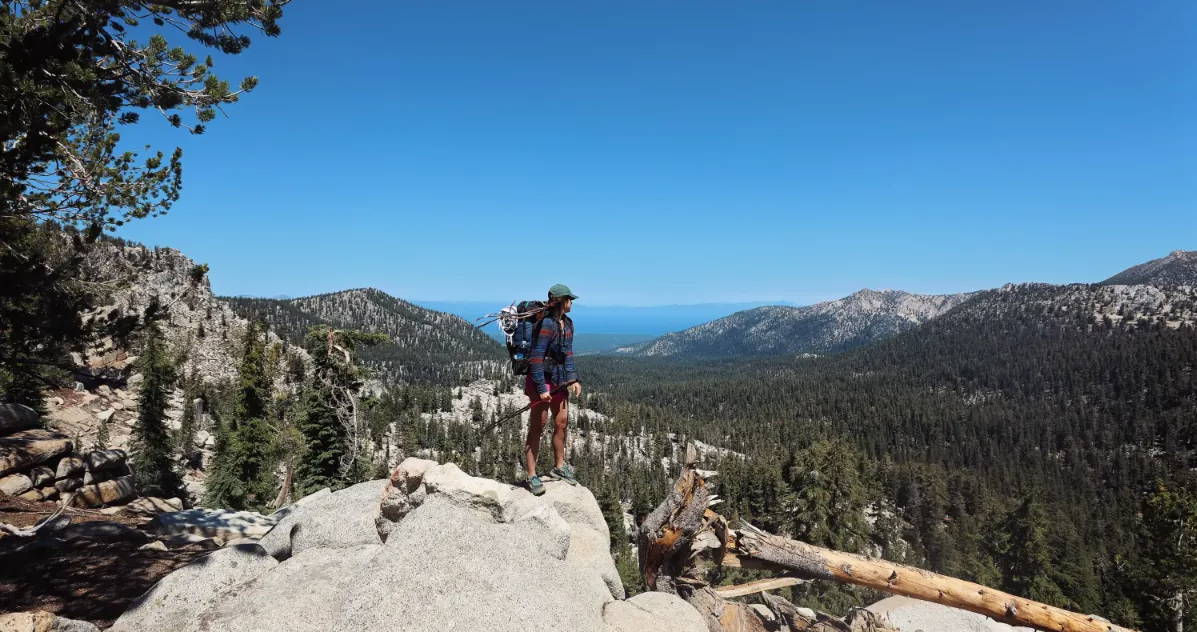 Now that we've covered the challenges of traveling alone, let's talk about the benefits!
Traveling solo in the outdoors allows you to take full control of your trips. Want to go to those amazing hot springs, but can't find anyone who wants to go with you? No problem, you can head there on your own! Spending time outside also does wonders for stress and anxiety, and time alone allows you to fully take in your surroundings. That's right, you can gaze out at that vista as long as you want to. One more benefit of solo travel is the boost of confidence it provides! While not everyone may admit to it, traveling by yourself can be a bit nerve-wracking, especially on your first few trips. But once you finish your trip and realize you can set up a tent, follow a trail, and sleep outside by yourself, you'll be beaming.
After a long week at work, it's easy to want to trade your bed and house for a sleeping bag and tent. But before you hop in the car and go, make sure you have a plan.
Whether you're car camping or backpacking, it's a good idea to determine where you'll be sleeping ahead of time. There's nothing worse than arriving at a state park at 9 PM to find that all campsites are booked.
If you're backpacking, it's crucial that you practice leave no trace and set up camp in an established site. Depending on where you're traveling, you may have to reserve a backcountry site in advance.
Once you decide where you'll be staying, let a trusted individual know your plans. If you'll be out of cell service, make sure this person knows when they can expect to hear from you. This person can let officials know if they don't hear from you by the established time.
One more thing to plan is water sources! If you'll be backpacking for more than a day, you'll likely need to filter drinking water from a natural source. While collecting water from plants or dew is possible, these methods won't yield enough to keep your body hydrated for long. So before you go, make sure you'll come across available water sources, and ensure they aren't barren during a dry season.
Check the Weather Before You Go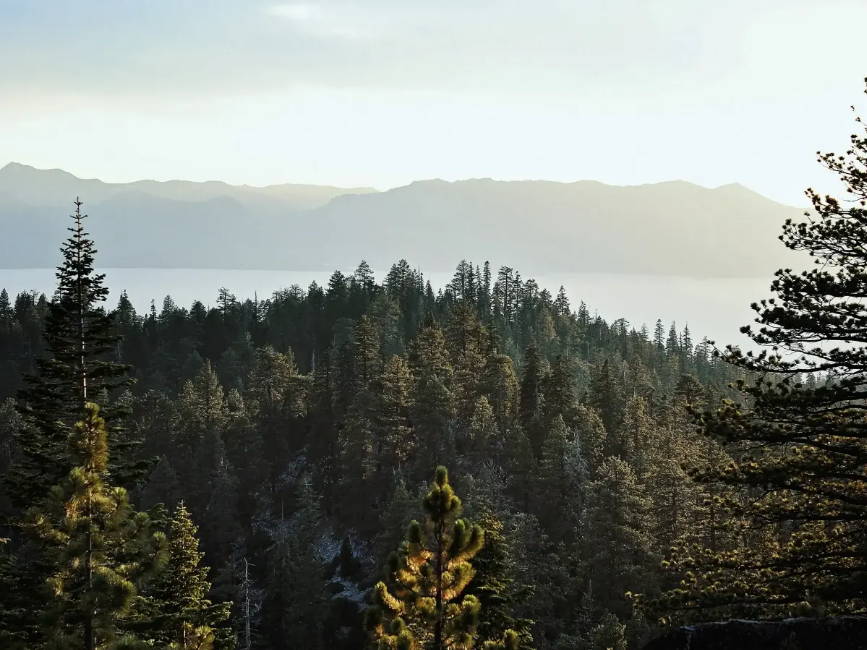 Once you've planned your trip, make sure to check the weather before you go. And that means the weather where you'll be going, not just where you currently are!
Make sure to take into account microclimates and elevation. Temperature changes rapidly with elevation, so it could be 60°F at the base of a mountain, but 35°F at the top. Weather doesn't necessarily have to halt your trip, but it should dictate what you pack.
Make sure to also be aware of situational dangers such as rainstorms that can flood canyons and ice that creates serious fall hazards.
Once you've checked the weather, it's time to pack! Depending on when and where you're traveling, you'll have to plan accordingly. Here is a general list of what to pack:
Map

Proper clothing — take layers and don't forget a rain jacket

Well-fitting boots or hiking shoes

Backpack

Water bottles and water filtration supplies

High calorie, nourishing food

Headlamp or flashlight

Tent or hammock

Sleeping bag

First aid kit

Pepper spray
"Invest in some new gear. No piece of gear is perfect. Make a decision and move on."
When you travel on your own in the outdoors, you'll likely have to rely on yourself for most tasks. If you've never climbed above 14,000 feet or crossed a fast-flowing river, it might not be the best idea to attempt these things for the first time on your own.
If you're not sure if you have the necessary skills, don't worry! You can always learn from others through casual trips or guided classes.
Watch the journey taken by two female backpackers, and read about the challenges and rewards that one solo traveler faces.
Q&A with our Storyteller Grant Winner & Co-Creator of The Art Of Letting Go
Dyana C.
1. What was the most memorable part of your trip?

Without a doubt the most memorable moment on the Tahoe Rim Trail was camping at the summit of Relay Peak, which is the highest point at about 10,336 feet. Jennifer M and I were 12 days in and completely exhausted when we hit the summit. It was our coldest night and dropped below freezing. During the night I remember peaking my nose out of my sleeping bag and feeling the piercing cold penetrate my face. The next morning I got out of my tent at 5:45am to take a few photos of the sunrise. I remember for a few minutes I put my camera down and fixated on the horizon. Above me I saw stars in dark blue sky and directly ahead the faintest stream of orange light rising over the mountains in the distance. Everything was still. I was freezing. But I was at peace and so proud of myself. I remember thinking "this is why I backpack, for this."


2. What do you consider to be the most prominent differences between solo trips and trips with multiple people?


Backpacking solo is an inner experience. You do it for yourself. I've done things alone my whole life, so I adapted to solo hiking fairly seamlessly. You get to know yourself more deeply. Thru-hiker Sean Sullivan put it so beautifully when he said to me "[when you backpack] you become the best version of yourself." Backpacking solo forces you to become more stoic. No one is around to hear you complain. You have to fight for yourself, stand up for yourself, make hundreds of decisions every day. You become tough very quickly both mentally and physically. Your mind and body have to work together, causing you to become very present.

Backpacking with someone is more of an outer experience. You verbally and physically have to communicate and sometimes do things differently to accommodate the other persons actions and ideas. I rarely thru-hike with someone. But when I do, it's equally as rewarding. I did the Tahoe Rim Trail with Thru Hiker Jennifer M, who completed the Pacific Crest Trail solo in 2018, which took serious balls. When we decided to team up for the Tahoe Rim Trail I was ecstatic because, we'll first off, she's wild in the best way possible. We have similar personalities so I knew she could tolerate my sarcasm with ease. And secondly, I knew Jen could handle hurting, hunger, exhaustion and fear. I knew she wouldn't crack under pressure. I knew she would be fun, positive, vibrant and bring an infectious energy to the adventure. I learned a lot from her and came away from the experience a smarter hiker.

3. Can you describe any moment on your trip where you felt vulnerable or in an unsafe position?

The most vulnerable I felt was when I turned a corner to see the biggest bear run down the trail about ten feet in front of me. I did the 1200 mile Pacific Northwest Trail spanning through Montana, Idaho and Washington, in the heart of grizzly land and never saw one bear for three months. So finally seeing one that close on the Tahoe Rim Trail made my heart sink to the floor. He saw me and quickly ran down the side of the mountain, so our meeting was brief. He was beautiful though, dirty blond and dark brown fur. I named him Franky.


4. How did the responsibility of documenting your trip affect the experience of the trip itself?

I love to shoot. It's a passion I've had since I was 10 years old. So actually coming up with shots and taking the time to shoot was not challenging. It actually forces you to pay attention more to what's around you. The most challenging part of documenting a longer thru hike is carrying the weight of the gear. I had an extra 7lbs of camera gear strapped to my neck and back. When you're trying to be as light as possible, heavy gear is not your friend. But I was committed to carrying the gear the entire two weeks and adapted accordingly.


5. Now that you are more familiar with solo outdoor trips, how has your relationship with the outdoors been negatively and/or positively impacted?

I've developed a very personal relationship with the outdoors. Almost similar to being in an actual relationship. We fight. We laugh. Ive fallen down hills, gotten lost, cursed at it with all my might then cried so hard to the point of being sick. And yet, the star filled nights, purple painted rolling mountains, streaming clear rivers, vibrant fire-colored sunsets, and wildlife I have fallen so deeply in love with. At the end of the day, there is a mutual respect between us. We protect each other. You feel these feelings very deeply when you hike solo. The wilderness has taught me patience, gratitude and love. Anyone who thru-hikes will tell you, saying goodbye to a trail can be heart wrenching. At the end when I walked off the Pacific Northwest Trail, after hiking for three months, I felt my heart breaking. It's a love that I wish everyone could feel. It makes you feel like you could fly higher than you ever thought possible.  


6. What sort of reactions did you get when people you encountered on your trip found out you and Jennifer were traveling alone?

This is a fascinating question because, I feel like the idea of women backpacking is still fairly new. I rarely see my mother or grandmothers generation endorse women in the outdoors. Until recently, women were conditioned to settle down early in life, start a family and run a thriving household. Backpacking was just crazy talk. People love to remind me constantly of the dangers of solo backpacking. On the Tahoe Rim Trail I felt like other hikers just assumed Jen and I were day-hiking. When we mentioned we were taking on the entire 170 miles you could see a sense of surprise followed by very positive and uplifting remarks. Other backpackers were always more supportive of us. Non-backpackers will constantly remind you how dumb you are. But I feel like a new bred of frontierswoman of the 21st century are emerging and heading into the outdoors as fearless crusaders and forces of nature. They welcome adventure while maintaining a high level of respect for the land. It's exciting to see.  

But to this day, If I go on a long hike, I'll tell my grandmother after the fact and afterwards she always says "knock it off with that crap." I think it's cute.

7. What do you hope people will take away from your film?


After watching our short film I hope viewers are reminded to let go. Some of my best life decisions happened by me just starting and not overthinking. Jen and I both have a "well let's just see what happens" attitude. If you want to thrive as a backpacker or human being, you need to let go of things that hold you back. Learn to release the negative side of situations and shift your focus on what you want to accomplish and the positive side. It's okay to get dirty, be scared, be hungry and physically hurt. I think its good to kick your own ass sometimes. If you want to backpack, don't focus on getting lost, hurt, encountering animals or the dark woods. Instead focus on the stunning views, the fascinating other hikers you're going to meet, the nights you're going to drink wine, skinny dip, star gaze, enjoy the calmness of the woods, the early morning sunrises and losing yourself in nature. Get out of your head and stop overthinking because baby you're just wasting time.


8. Do you have any advice for women seeking to go on their own solo trip?

Pick a trail, something with a beginning and end point. Could be three days or could be five months. Don't overthink it. Then invest in some new gear. No piece of gear is perfect. Make a decision and move on. Get to the start of the trail and just start walking. Be silent. Listen to the trees. Listen to the rivers. Wake up for sunrises. When you want to quit, dig your trekking polls into the earth and hike faster and harder. Every morning stare down each mountain you have to hike over and say to it under your breath, let's fucking dance. Fight like hell to get to the finish. At the end you'll pull out of you someone you never knew existed. You will realize anything is possible and you will feel, probably for the first time in your life…. freedom.
See more of Dyana's adventures on instagram:
@dyanacarmella
Now that you know how to safely take a solo trip, there's nothing stopping you. Once you've completed your first trip on your own, you'll be hooked.